Montecarotto: the burg of Verdicchio
A characteristic village of Le Marche
by Nadia Stacchiotti
Montecarotto is one of the small castels of Jesi where the Verdicchio wine dominates undisturbed.  A visit to the burg offers many places of interest and a lot of cellars to taste the excellent Verdicchio.
The first thing you notice as soon as you arrive in the city is the cylindrical clock tower. In the square rises up the Comunal Theatre, one of Marche storical theaters that houses in its basements a pretty curious museum: the Mail Art. This museum rallies artworks and artistic productions of small dimensions from all over the world.
The burg offers a lot of walks along the little streets, among restored houses and other that are still waiting, courtyards and panoramic glimpses until you reach the most characteristic alley that ends in the clock tower's square.
However Montecarotto is synonymous of Verdicchio. By walking around the countryside streets you will find countless cellars where you can rest a while, taste good wine and buy directly from the productor.
Nadia Stacchiotti, Racconti di Marche blog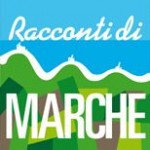 Main pic by Flickr User notoriousxl