Italian wine: Di Freisa in Freisa, the event
One vinyard, a thousand faces!
y Roxana Iacoban
Di Freisa in Freisa is an event held every year in June (16th to 18th) that aims at getting people, both experts and not, to know the Freisa Wine in all its aspects and variety.  The edition Di Freisa in Freisa 2017 was the 8th edition and it celebrated 500 years from the discovery of the first document testifying the existence and quality of the Freisa wine (1517). The heart of the event was the town of Chieri, which is infact the centre of this incredible wine.
When we reached Chieri I noticed the whole town being in a festive mood and decorated as such. As soon as we got to the beautiful Piazza Cavour we found the Maestri del gusto stands with all their delicious products that one could taste, try and literally devour! Then we walked along Via Vittorio Emanuele II, and there we found dozens of stands with wine from different cellars in the area, and an art exhibition that everyone stopped to look at. The artist was Patrizia Piga who expressly worked at the Freisa project and event and told us the story of this ancient wine through photographs that looked like real paintings, both due to the genius use of colour but also for the creative concepts conveyed by these illustrations.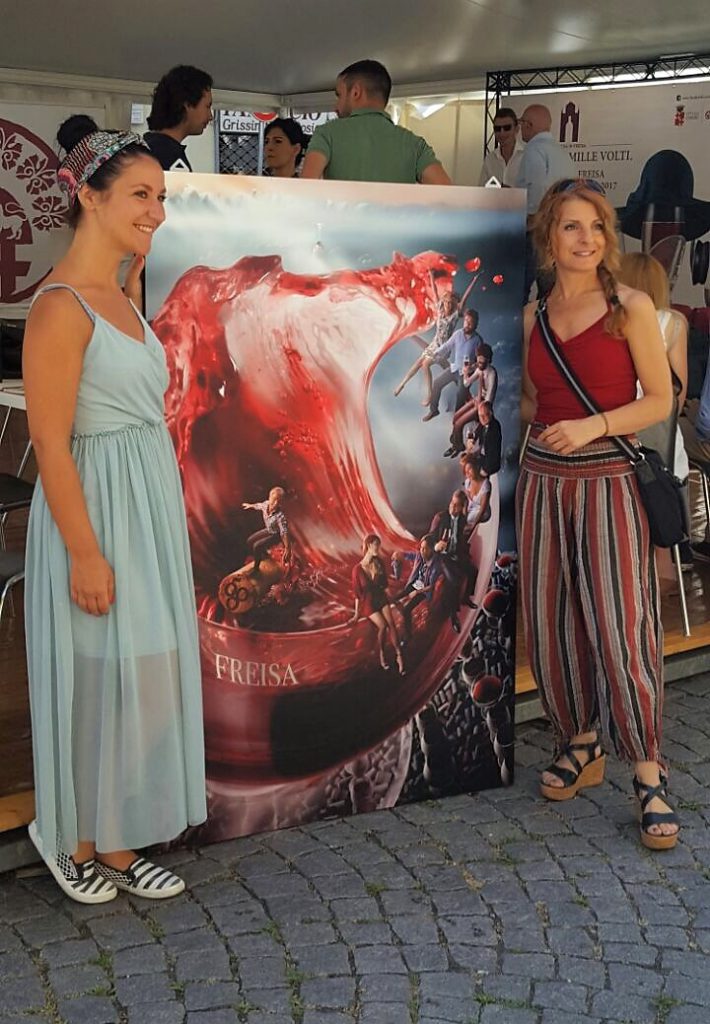 The main illustration, she later explained at the workshop, embodied all the different types of the Freisa wine from sparkly to sweet that were personified by different people involved in the project who in her thought resembled somehow a particular type of wine. We got a chance to meet all these people and as a matter of fact she totally nailed the personification! In her art she combined contemporary visions of food in a surreal representation that leads us to famous artists like Dalì or Frida, using modern tools like Photoshop, in a surprising way. I suggest you to check out her creations and also if you have the chance of meeting her, go for it because she is an adorably sweet and available person.
Workshop & tasting time
All the workshops were being held in a piazza near via Vittorio Emanuele and I honestly did not know what to expect. I have a real passion for wine, but only once have I been taught how to taste wine and how to recognize the characteristics of a wine. I didn't know if I was ready to immerse myself in a crowd of wine experts that talked a language I did not understand. Instead I was positively surprised both by the fact that the two hosts of the event were about my age and super laid back people despite their important function both for the event and for the Italian wine industry in general: one was Luca Balbiano, the head of the Consortium of the Freisa in Chieri, and the other Gianpiero Gerbi, the son of one of the most important enologists in Italy.
My first workshop was the one on Martini and mixology. I had tasted Martini many times before, but never in such a variety of cocktails (and in some I didn't know there was any). There was a professional bartender who made the cocktails in front of us, and at the same time told us the story of the Martini brand and products. I had no idea also that it was such a long lasting brand, dating back to the 1800's. The brand was born from the encounter of two genious minds: one of an Italian entrepreneur called Alessandro Martini, and one of a creative mind who mixed fragrances of spices and herbs that caught the "nose" of many passengers in Via Dora Grossa in Turin. Thanks to their partnership in 1863, their first vermouth was born: The Martini Rosso (the recipè of which is still the same as it was back then and of course top secret). The magical flavour of this vermouth is the result of a perfect combination of good wine, herbs and aromatic plants (around 500), secretly kept under custody.
The bartender let us try an Americano sbagliato, a Manhattan, a Martini Royal Bianco and to celebrate at the end the Freisa Superiore we had an amazing coktail with this wine, with the addition of a floral fragrance thanks to a lavander flower. Martini has a museum that one can visit in Pessione di Chieri, only 20 minutes away from the Porta Susa Station in Turin.
We could always have a bite of organic yummy food before, while or after having tasted the different wines and cocktails, so don't worry, despite of the summer heat you can always get re-energized with the local goodies. I got a chance to hear various producers of Freisa all over Piedmont talking about their products and the story of their companies, and I was surprised to find out that it was always something born from pure passion for wine and local traditions. I think that is what makes the real difference. When you do something driven by passion, you can never go wrong, and people perceive that.
On Sunday I got a chance to hear about nutrition and new eating habits and intollerances, in a workshop held by Mariella Droetto, the owner at Dolci and Dolci (bakery in Chieri) and Gianpiero Gerbi. This is a recurring theme nowadays because more and more people have intollerances to various foods and bakeries have to face a real challenge in trying to reproduce the traditional flavours with different types of flours and ingredients. It takes a real scientist touch! We tried the local sweet focaccia of Chieri, together with a sweet wine called Deliziosa from the Torinese hills. We had to guess which focaccia was for celiacs and which was normal, and I have to say for the first time ever I had difficulty telling the difference. I had tried gluten free food before but nothing ever tasted the same as traditional recipes. So I have to congratulate Mariella for her recipe and the effort that she's put in offering people with intollerances the same opportunity as the others in trying all sorts of bakery products.
The afternoon continued with other workshops about the Freisa and its aging qualities, blind tasting, curiosities about the Freisa and a photography competition followed by Body Painting demonstrations by the GV Professional Make up Academy. Me and my friend had to unfortunately had back home, but not before taking a stroll in the downtown of Turin, with all its busy streets and piazzas, markets and beautiful porticos.I want to say a big thanks you to the organizers, our hosts Gilberto and Chiara, the city of Chieri and its super lovely people. I sure will come back to explore some more of this rich and vivacious places.
Roxana Iacoban
Italia Slow Tour Ambassador @ Di Freisa in Freisa
Visit Turin: helpful hints
Italian name: Torino.
Arrival
There is one airport in Turin called Torino-Caselle. A bus to the city centre leaves from there every 15 minutes in the working days and every 30 minutes in the holidays. It takes 45/50 minutes, price: 6,5€.
For transcontinental travel or for cheaper flights, land at the Malpensa Airport near Milan. From here, you can reach Milan Central Station by train or by bus (the train leaves every 30 minutes, it takes 50 minutes and costs 13€. The bus leaves every 20 minutes, it takes 60/70 minutes and costs 10€). Then, there are many trains connecting Milan Central Station to the centre of Turin: you can choose between Trenitalia and Italo companies, the trip takes 1 hour or 2 and the fee depends on the train you choose. There is also the possibility to take the bus, with Flixbus you can get to Turin in 1 hour and 55 minutes for 9,99€.
The major railway stations are Torino Porta Nuova e Torino Porta Susa. The flixbus leaves you in Torino Vittorio Emanuele which is also in the centre of Turin.
Transports
You can visit Turin on walk, by bike or by public transports. For buses, tram and subway there is one ticket. The price of the single ticket is 1,7€ and it lasts 100 minutes. There are also the option of the daily ticket, the 48 or 72 hours ticket or the weekly one. For many details visit the GTT website.
In Turin it is available the bike sharing service, with Mobike you pay 0,69€ every 20 minutes.
What to do in Turin
Turin is the capital city of Piedmont region in the north-west Italy. It is well-known for the Mole Antonelliana and the Egyptian museum. If you are passionate about football here you can find the Juventus stadium. Every year in May there is the International Book Fair. Every year in June there is also Di Fresia in Fresia, an event about wine. Nearby you can also visit Chieri, a small town near Turin, read some tips on Italia Slow Tour

Where to sleep
The centre of the city is definitely the best place where to sleep in Turin, since it is easier to move around the city. The areas near Porta Nuova and Porta Susa are way cheaper but still safe and near the centre of Turin.