Milan: Art of the Naviglio Martesana
Walking to Gorgonzola, all along the Naviglio Martesana
by Virginia Merlini
I have been jogging down the side of the naviglio to the Metro station in Cassina De' Pecchi. There and back is about 5 km or 3 miles. Today I decided to walk in the opposite direction to Gorgonzola to see the town. My trek was on the Naviglio Martesana. The canal was originally called Naviglio Piccolo when it was constructed under the direction of Francesco Sforza in 1457. According to the information placard I encountered on my walk, the purpose of the Naviglio Piccolo was the transport of "grindstones, oil presses, spinning wheels, and map chests". The ancient Naviglio starts at the River Adda beneath the Trezzo Castle. The Castello Trezzo was a large fortress that was owned by the Visconti family in the 14th century.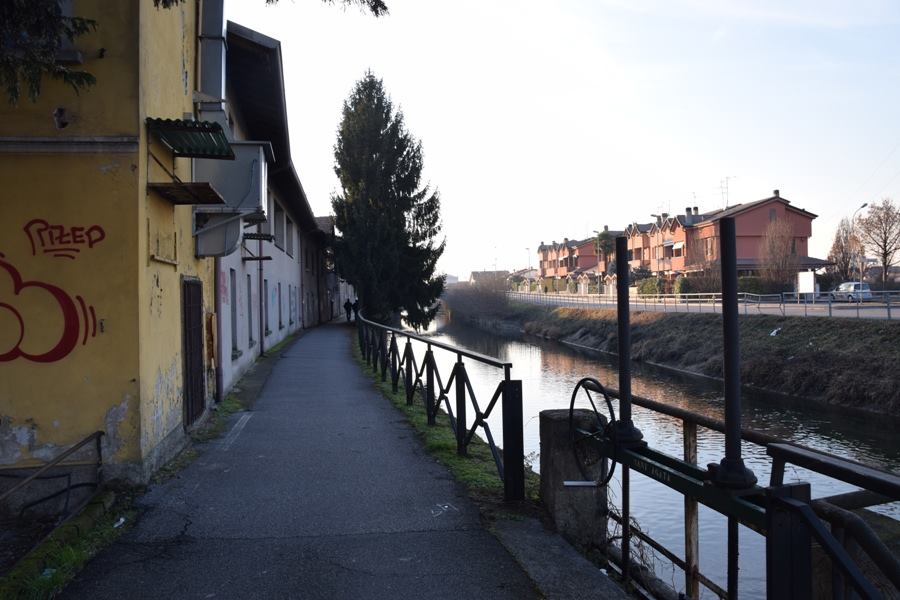 The history of the castle is closely tied to its famous single arch bridge – the Trezzo sull'Adda Bridge commissioned by Barnabò Visconti (1323 –1385) the Lord of Milan. For 400 years the castle bridge had the largest span in the world. The canal starts there, of course, since the Sforza and Visconti dynasties were joined in marriage by Francesco Sforza and Bianca Maria Visconti soon before the canal was started. It is logical that the family would benefit their locality and their fortunes with their construction efforts.
The original Naviglio Piccolo was built in a scant three years and goods were transported by barges – each pulled by two draught horses. The expansive waterway successfully facilitated trade by linking Milan to the River Adda, Lake Como, and Northern Europe. The current Naviglio Martesana has over 129 branches and irrigates more than 25,000 hectares of land (about 62,000 acres) in the agricultural area between Terezzo sull'Adda and Milan where it ends near the Giardino Cassina de Pomm – quite close to the Duomo.
Walking down the canal I discovered the artwork of the younger generation – graffiti. Although some frown on graffiti, in general, as a form of vandalism – which it certainly is – and most do not consider it worthy art, it can be quite pretty. Graffiti offers a welcome colorful blast on the concrete environs of the drab industrial and urban landscapes where it is frequently found. In viewing the art of the Naviglio Martesana one might recall Jean-Michel Basquiat (1960-1988) – the famous American graffiti artist. His work popularized and legitimized the genre, and his friendship with more mainstream pop artists Andy Warhol and Keith Haring, and inglorious death of a heroin overdose cemented his and the art form's renown – and its association with a less ideal taste and lifestyle.
The walk to Gorgonzola offered up its graffiti to my hungry camera lens. I hope you like the morsels shown here! I find them delightful! Enjoy the photos!
Virginia Merlini